Anthony Evans, president of Pure Healthcare, was one of five panelists at the Dayton Business Journal's 2020 Future of Health Care panel discussion on Thursday, Feb. 27, at the Marriott at the University of Dayton (1414 S. Patterson Blvd., Dayton, OH 45409).
The Dayton Business Journal's Future of Health Care event featured thought leaders discussing healthcare innovation in Dayton today, as well as what's coming in the future.
In addition to Evans, the panelists included Gina McFarlane-El, CEO of Five Rivers Health Centers; Dr. Kelly Miller, medical oncologist with Dayton Physicians Network; Chris Pulos, senior vice president at Marsh & McLennan Agency LLC; and Marti Taylor, CEO of OneFifteen.
As president of Pure Healthcare, Evans is focusing his efforts on ensuring that the Pure Healthcare model will be a welcome resource for those facing complex medical conditions, chronic illnesses and quality-of-life issues. He is dedicated to integrated health services and the care of individuals throughout the Dayton region.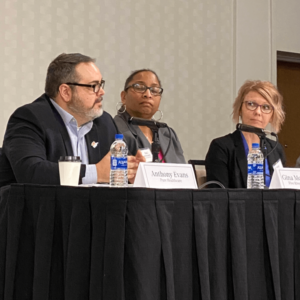 "At Pure Healthcare, we seek to expand the impact of palliative care and chronic care management, serving more individuals in the community who are facing chronic illnesses," Evans said. "Our healthcare professionals provide individualized, person-centered supportive care services to those who are living with chronic illnesses such as cancer, pulmonary diseases, heart disease and neurological diseases."
By taking a person-centered care approach and addressing more than a person's symptoms, Pure Healthcare is working to make healthcare better. Pure Healthcare values the unique circumstance of each person it serves and develops an individual-based plan for areas they define as most meaningful to improve health and quality of life. Pure Healthcare collaborates and coordinates with primary and other healthcare professionals to provide seamless transitions across healthcare settings and ensure the effectiveness and efficiency of health care services.
In January, Pure Healthcare celebrated the grand opening of its new 36,000-square-foot care center (2200 Miami Valley Dr., Centerville, Ohio 45459). Since then, Pure Healthcare has held several open houses for the public to tour its care center.
"Pure Healthcare is changing the approach to healthcare," Evans said. "At Pure Healthcare, we make each day matter for our patients."
For more information about Pure Healthcare, visit purehealthcare.org or call toll-free at 833.600.PURE or 833.600.7873.